Bearing Cross Reference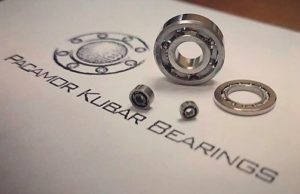 Bearing and drive-ring designs can be fully customized. From simple flanges, intricate lubrication grooves, O-ring housings, to new materials and designs, PACAMOR KUBAR BEARINGS engineering team can assist with design engineering for custom units. For example, if extreme fits are unsuitable, selective assembly of coded bores matched with similarly graded shaft and housing diameters may be utilized. This approach is usually more economical than a reduction in diameter tolerances. Bearings are typically manufactured to standard grades of precision, with well established tolerances for size and geometric accuracy. These standards are known as ABEC classes. They are set by the Annular Bearing Engineers Committee (ABEC) of the American Bearing Manufacturer's Association (ABMA). These standards are also accepted by the American National Standards Institute (ANSI) and by international agreement for those developed by the International Organization of Standards. Beyond the standard ABEC tolerance which describes many ball bearing attributes, the bore of the inner ring and the outer ring's outer diameter can be coded to specific requirements. This helps maintain a consistent line-to-line fit. Miniature and instrument ball bearings inner and outer diameters can be further calibrated to very specific ranges by designating their applicable dimensional codes.
Instrument Series​
Miniature Series​
This ball bearing cross-reference is a guide for interchanging ball bearing part numbers among ball bearing manufacturers. This bearing cross reference is offered as a guide only, as manufacturers change ball bearing nomenclature occasionally. Therefore, the guide is offered to assist in the bearing cross reference process, but not as a final and complete ball bearing interchange. Please consult PACAMOR KUBAR BEARINGS engineering team if you require additional ball bearing cross reference information not included in this bearing interchange guide.
PACAMOR KUBAR BEARINGS has ball bearing options to satisfy any requirement. Technical expertise is available to assist with design engineering for custom products. Available options include, but are not limited to, custom rings, retainers, balls, shields, seals, lubricants, and packaging. You can be certain, whether our ball bearing is included in the Original Equipment Manufacturer's design or is installed in a high quality overhaul, the PACAMOR KUBAR BEARINGS' name is one you can trust.
Engineering assistance available.  Contact sales@pacamor.com