PKB's Clean-Room Bearing Maintenance and Re-lubrication Center meets Class-6, with Class-5 Clean Benches, per ISO 14644-1. 
Pacamor Kubar Bearings is pleased to offer clean-room services.
Have your ball bearings been in a stock room for 3 years or longer?  
Is the lube discolored or the packaging damaged?
Did your stockroom temperature and humidity ever fluctuate?  
PKB's quality certified factory and clean-room are the right place to refurbish your ball bearing inventory.
Who better, than the ball bearing manufacturer, to re-lubricate your aging bearing inventory?   
Clean-Room Services:
Wash & re-lube with the same lubricant
Wash & change the lubricant to a different lubricant and/or lubrication process 
Options include, but not limited to:
Grease 
Oil
Grease Plate
Oil Film
Oil Plate
Serialization
Dip & Drain
Dry-Film Lubricants (Dicronite, etc.)
Lube Dry (wash only)
Vacuum Impregnation
Lubricant & Solvent Mixtures
Lube Weight Documentation
PKB Stock Lubricants
PKB Specialty Lubricants
Customer-Supplied Specialty Lubricants
Bearings repackaged in PKB Standard Clean Bags
Bearings repackaged in specialty bags, to your specification

Intimate bearing packaging in Class 6 Clean Room, with Class 5 Clean Benches, meeting ISO 14644-1.

Packaging options include, but not limited to:

Nitrogen purge
1A8 bags
Vial pack
Pill pack 
MIL-197
Kitting
Other specialty packaging materials & processes
 Why Maintain Proper Bearing Lubrication?
Proper lubricant can reduce friction, prevent bearing wear, protect bearing surfaces from corrosion, and carry away excess heat during bearing operation.  
Bearings operate on a very thin film of lubricant which must be maintained, or replaced, to ensure that maximum bearing life is achieved.  
Proper selection, application, and maintenance are vital in maximizing bearing life.  
Maintaining your bearings with proper lubrication will reduce friction and wear.   
Can PKB Re-lube Bearings That Were Manufactured By Other Companies?
Yes. PKB regularly performs re-lubrication services on bearings that were originally manufactured by other bearing companies.    
When Should Bearings be Re-lubed?
PKB recommends that bearings should be re-lubed within three (3) years of the original manufacturer's lube date, or if any of the following conditions occur:
Bearings have been subjected to temperature or humidity conditions outside of the recommended temperature range
Bearings have become contaminated 
The original packaging has become damaged
If you're unsure of the lubricant's expiration date
There is any question about the quality, condition, or type of lubricant in the bearings
The bearing lubrication appears to have separated, discolored, or otherwise changed appearance 
Can't I Just Wash Out the Lubrication and Install New Lube?
Many 440C Stainless Steel Bearings that are used in Aerospace, Medical, and other applications, can be cleaned and re-lubricated, in proper clean-room conditions, and by trained personnel. Improper handling can result in cross contamination, problems with wettability on balls & bearing races, or ball & raceway damage. Other components affected or broken, are the retainers, seals, shields, balls, or wires.  PKB provides bearing wash and re-lubrication services, for many Aerospace OEM's and authorized re-sellers, in our factory clean-room.
Bearing Lubrication – Most Requested Oils
Lubricant
Type
Viscosity (Centistokes)
 @ 100 F
Viscosity (Centistokes)
 @ 210 F
Operating Range (F)
Mil-Spec

WINSOR 

L245X

DIESTER
31
5.3
-65 to +300
MIL-L-6085A
ANDEROL 401D
DIESTER
11.5
3.2
-65 TO +300
–
DC 510
SILICONE
38
14
-65 to +500
MIL-L-27694
KRYTOX143AC
FLUOROCARBON
260
26
-30 TO +550
–
 
 
 
 
 
 
Bearing Lubrication – Most Requested Greases
Lubricant
Base Oil
Thickener
Color
Operating Range (F)
Mil-Spec
ROYCO 27
DIESTER
LITHIUM
BROWNISH
-100 TO +300
MIL-G-23827
BEACON 325
DIESTER
LITHIUM
LIGHT TAN
-65 TO +250
MIL-G-3278
BRAYCOTE 601

PERFLUORINATED POLYETHER

TETRAFLUORO-ETHYLENETELOPMER

BEIGE
-100 TO +500
–
MOBIL 28
HYDROCARBON
CLAY
DARK RED
-65 TO +350
MIL-G-81322
SRI-2
MINERAL
POLYUREA
BLUE / GREEN
-20 to +350
MIL-G-3545G
KRYTOX 240AC
FLOURINATED GREASE
VIDAX
WHITE
-30 TO +550
MIL-G-27617
AEROSHELL 22
SYNTHETIC HYDROCARBON
MICROGEL
AMBER
-85 TO +400
MIL-G-81322
 Please Contact PKB for a quote to rework your in-house bearings, with new lubricant, or to make a lubricant change.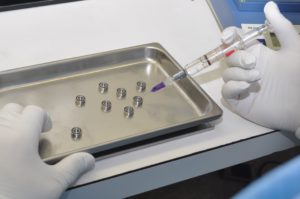 sales@pacamor.com
More about Bearing Lubrication from PKB:
The most popular bearing lubricants are listed on our Lubrication Page. Many more oil, grease and dry-film lubricant options are available, upon request. 
More How-To Guides:
See our Shaft and Housing Fits page for a detailed chart and more information line to line, interference & loose fits onto a bearing shaft or into a housing.