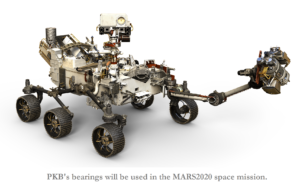 Pacamor Kubar Bearings (PKB), a Troy, NY manufacturer of ball bearings for aerospace and defense systems, was recently awarded a contract by Sierra Nevada Corporation (SNC) to supply critical hardware for the Mars 2020 mission. Scheduled to launch in 2020, the robotic science rover will investigate key questions about the habitability of Mars and assess natural resources and hazards in preparation for future human expeditions to the red planet. Under the new contract, PKB will manufacture ball bearings for several motors in the robotic arm actuator and sample caching system. The instruments will enable scientists to identify and select a collection of rock and soil samples that will be analyzed and stored for potential return to Earth.
"PKB has been supporting NASA's Jet Propulsion Laboratory (JPL) programs and missions for over 10 years," said Ed Osta, president of Pacamor Kubar Bearings. "We are grateful for NASA and SNC's continued confidence in our ability to produce reliable aerospace bearings for these vital missions. PKB is committed to the success of this mission and proud to partake in this project. We look forward to continuing our longstanding relationships with JPL and SNC."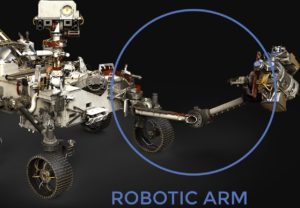 PKB understands the unique challenges presented by aerospace and guidance applications. Temperature extremes and the vacuum of space create demanding requirements for the lubricant type and its ability to withstand the environment. To meet this demand, PKB is providing precise and reliable products in support of successful missions.
"SNC appreciates the PKB's commitment to deliver the promised product within the assured timeline," said Jason Priebe, vice president of productions/operations for SNC's Space Systems business area. "Reliable suppliers are crucial to developing a final product that you're proud to stand behind."
ABOUT PACAMOR KUBAR BEARINGS
PKB is ISO9001:2015 and AS9100D certified, which includes the additional QS requirements specific to the aerospace industry. The company attained certification from the FAA to manufacture bearings per the requirements of TSO-C149, thereby enabling it to provide bearings as replacement parts to FAA certified repair stations. PKB is JCP-Certified, which is a joint certification program with United States and Canada. 
Pacamor Kubar Bearings manufactures high performance DFARS-compliant miniature and instrument ball bearings for the aerospace, defense, medical, industrial and commercial industries. Customers include major aerospace manufacturers and key re-sellers as well as various national laboratories and prestigious government organizations such as NASA. PKB provides these industries with precision ball bearings, including those with unique designs and materials used at sub-cryogenic temperatures.
For more information on PKB, please follow us on our facebook page, and on our instagram feed.
Pacamor Kubar Bearings offers the right bearing at the right price, for all your miniature, precision, and instrument applications.