Bearings are Rocket Science (Machine Design)
When Kearfott Guidance & Navigation, a leading aerospace manufacturer, needed a unique bearing for their space flight application, they turned to Pacamor Kubar Bearings (PKB).
Kearfott Guidance & Navigation Corporation, a subsidiary of Astronautics Corporation of America, has been asked to design and develop a special 'cryogenic' RVDT (Rotary Variable Differential Transformer) Gearhead package for use in an actuator. The actuator will be used to adjust a valve for throttle control of an upperstage rocket engine. The target market is for both USA & European companies requesting such a system.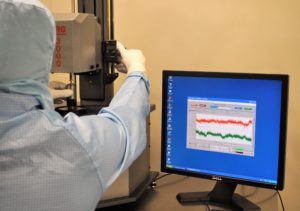 PKB understands the unique challenges presented by aerospace and guidance applications. Temperature extremes in a rocket booster vary from high heat to below cryogenic temperatures, creating a challenge to the bearing materials and to the effectiveness of the lubricants. The vacuum of space adds more challenge to the lubricant type and its ability to withstand the environment. The demand for an extremely reliable product is required because there is only a single opportunity for success. Failure is not an option. These design elements and the intense quality specifications all add up to a challenging opportunity for any ball bearing manufacturer.
Tony Patti, Engineering Manager, Kearfott stated, "Since the unit is to operate at a cold temperature of -425 deg. F, standard lubrication in the bearings would not be adequate."
PKB's team of engineers recognized the challenges of this particular bearing application. After all, PKB has been designing and manufacturing bearings for challenging applications from surgical tools to aircraft instruments to robotics for over 40 years.
"Pacamor Kubar Bearings provided special materials," continued Patti, "including retainers with self-lubricating characteristics, which are designed to handle the harsh environments encountered in space applications."
The PKB engineering team suggested a special retainer material with a Polytetrafluoroethhylene base. This low friction material offers high chemical resistance, low and high temperature capability, and some lubricating properties as several of its attractive features. In addition, two types of dry film lubricant were presented as options for additional wear in this challenging environment. Finally, ceramic balls, presented the best advantage for both their temperature range and lubricating characteristics.
In addition to a demanding design, the customer placed one more challenge to the PKB team; design, develop, produce, and ship the bearing in less than 26 weeks. PKB met that challenge and exceeded the delivery requirement, shipping the new bearing in less than 10 weeks.
Patti explained why Kearfott selected PKB as the supplier for this project, "They were selected not only for demonstrating the effectiveness of the special materials but for favorable pricing and their ability to meet the short delivery schedule required.
The bearings have been received and accepted by Kearfott Guidance & Navigation. Currently, they are awaiting installation into the new actuator system. Everyone at Pacamor Kubar Bearings is enthusiastically looking forward to lift off and all are proud to be a part of the US Space Program.
"Aerospace programs are of vital importance to our nation's standing as a global leader", stated Edward M. Osta, CEO of Pacamor Kubar Bearings. "At PKB, we are committed to the success of this mission and are proud to partake in this project."
Pacamor Kubar Bearings
145 Jordan Road
Troy, NY 12180